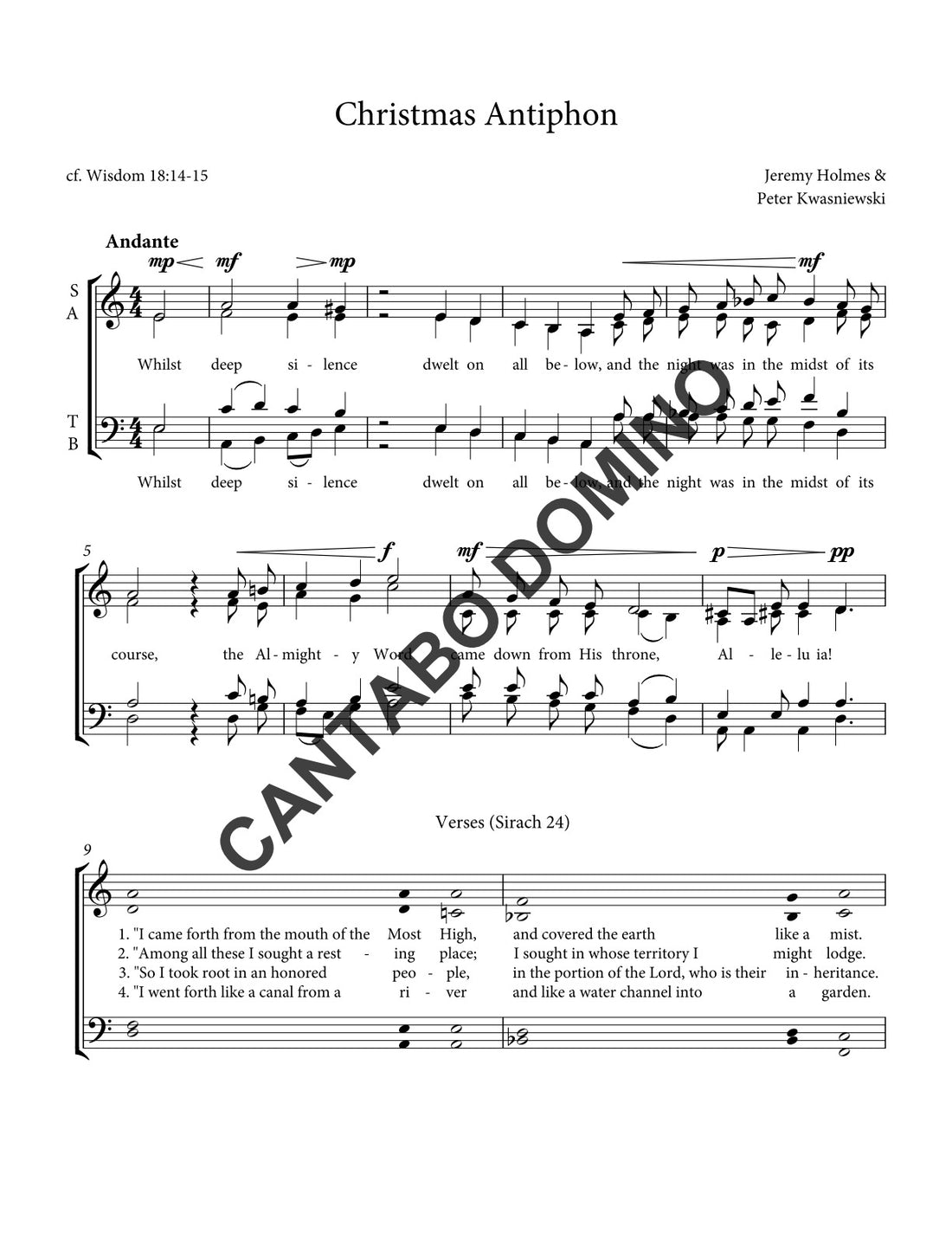 If you are purchasing for multiple performers, please enter the number of copies you will be making of this piece, as only one download will be available per item purchased.
A Christmas season antiphon (SATB) in English, with harmonized verses. The antiphon is from the book of Wisdom; the verses from chapter 24 of Sirach.
Suitable for use as an Offertory or Communion piece.
Whilst deep silence dwelt on all below, and the night was in the midst of its course, the Almighty Word came down from His throne, alleluia.

(Wisdom 18:14-15)

3 "I came forth from the mouth of the Most High, and covered the earth like a mist.
4 I dwelt in high places, and my throne was in a pillar of cloud.
5 Alone I have made the circuit of the vault of heaven and have walked in the depths of the abyss.
6 In the waves of the sea, in the whole earth, and in every people and nation I have gotten a possession.
Refrain

7 "Among all these I sought a resting place; I sought in whose territory I might lodge.
And the Creator of all things said, 'Make your dwelling in Jacob, and in Israel receive your inheritance.'
10 In the holy tabernacle I ministered before him, and so I was established in Zion.
11 In the beloved city likewise he gave me a resting place, and in Jerusalem was my dominion."
Refrain

12 "So I took root in an honored people, in the portion of the Lord, who is their inheritance.
13 I grew tall like a cedar in Lebanon, and like a cypress on the heights of Hermon.
16 Like a terebinth I spread out my branches, and my branches are glorious and graceful.
17 Like a vine I caused loveliness to bud, and my blossoms became glorious and abundant fruit."
Refrain

30 "I went forth like a canal from a river and like a water channel into a garden.
32 I will again make instruction shine forth like the dawn, and I will make it shine afar;
33 I will again pour out teaching like prophecy, and leave it to all future generations.
34 Observe that I have not labored for myself alone, but for all who seek instruction."

(Sirach 24)