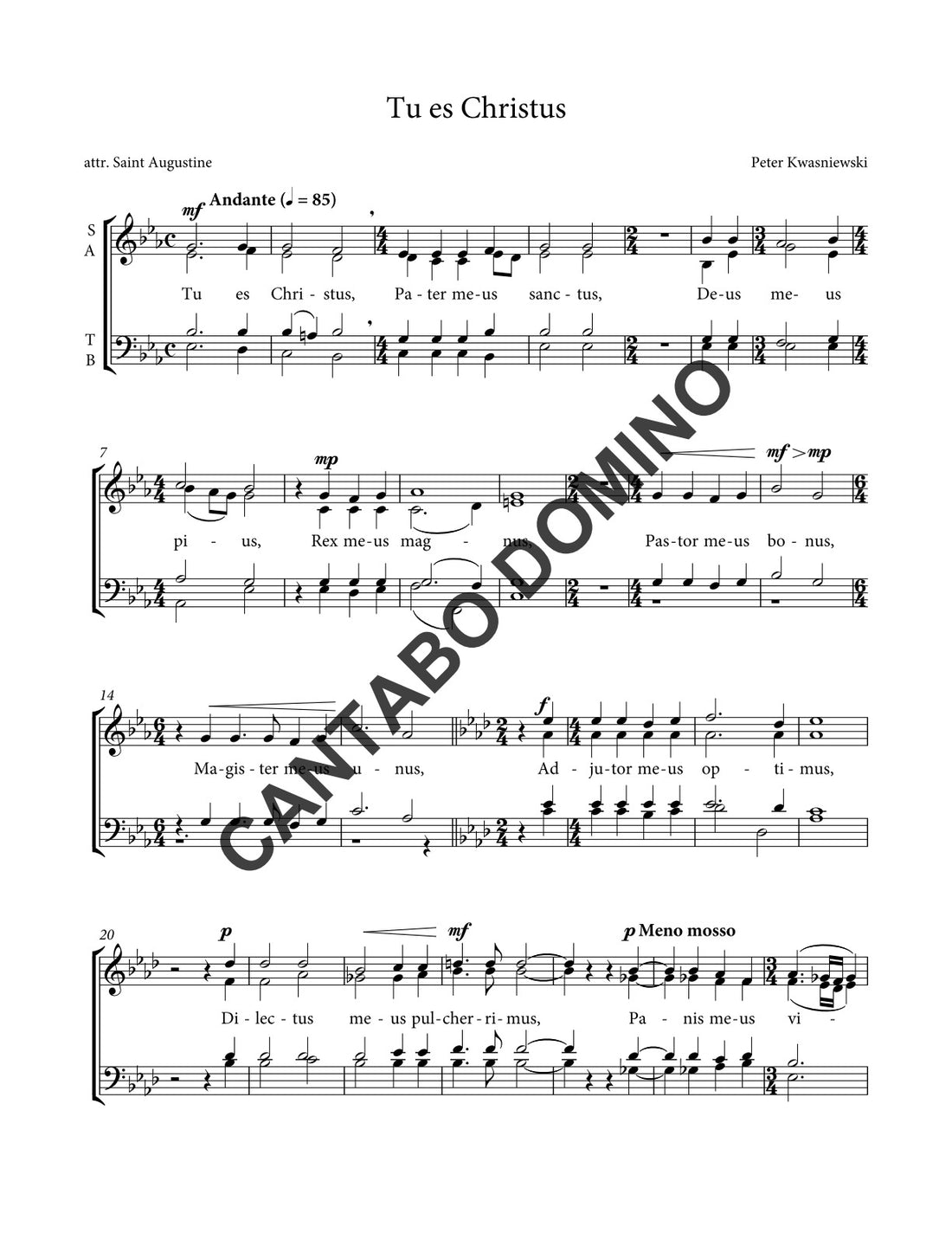 If you are purchasing for multiple performers, please enter the number of copies you will be making of this piece, as only one download will be available per item purchased.
A magnificent Latin text attributed to St. Augustine and set to music for SATB a cappella choir. Christ is lauded here under twenty titles, such as "My great king," "My one teacher," "My most beautiful beloved," "My priest for eternity," "My holy sweetness."
Ideal for an Offertory or Communion motet any time of the year but most especially on feasts of the Lord such as Christ the King and Corpus Christi.
Tu es Christus,
Pater meus sanctus,
Deus meus pius,
Rex meus magnus,
Pastor meus bonus,
Magister meus unus,
Adjutor meus optimus,
Dilectus meus pulcherrimus,
Panis meus vivus,
Sacerdos meus in aeternum,
Dux meus ad patriam,
Lux mea vera,
Dulcedo mea sancta,
Via mea recta,
Sapientia mea praeclara,
Simplictas mea pura,
Concordia mea pacifica,
Custodia mea tota,
Portio mea bona,
Salus mea sempiterna.

TRANSLATION

You are the Christ,
My holy father,
My kindly God,
My great king,
My good shepherd,
My one teacher,
My best aid,
My most beautiful beloved,
My living bread,
My priest for eternity,
My guide to the fatherland,
My true light,
My holy sweetness,
My right way,
My resplendent wisdom,
My pure simplicity,
My peaceful concord,
My total protection,
My good portion,
My everlasting salvation.

(Attributed to St. Augustine)