The Babies Are Sleeping (Holy Innocents Carol)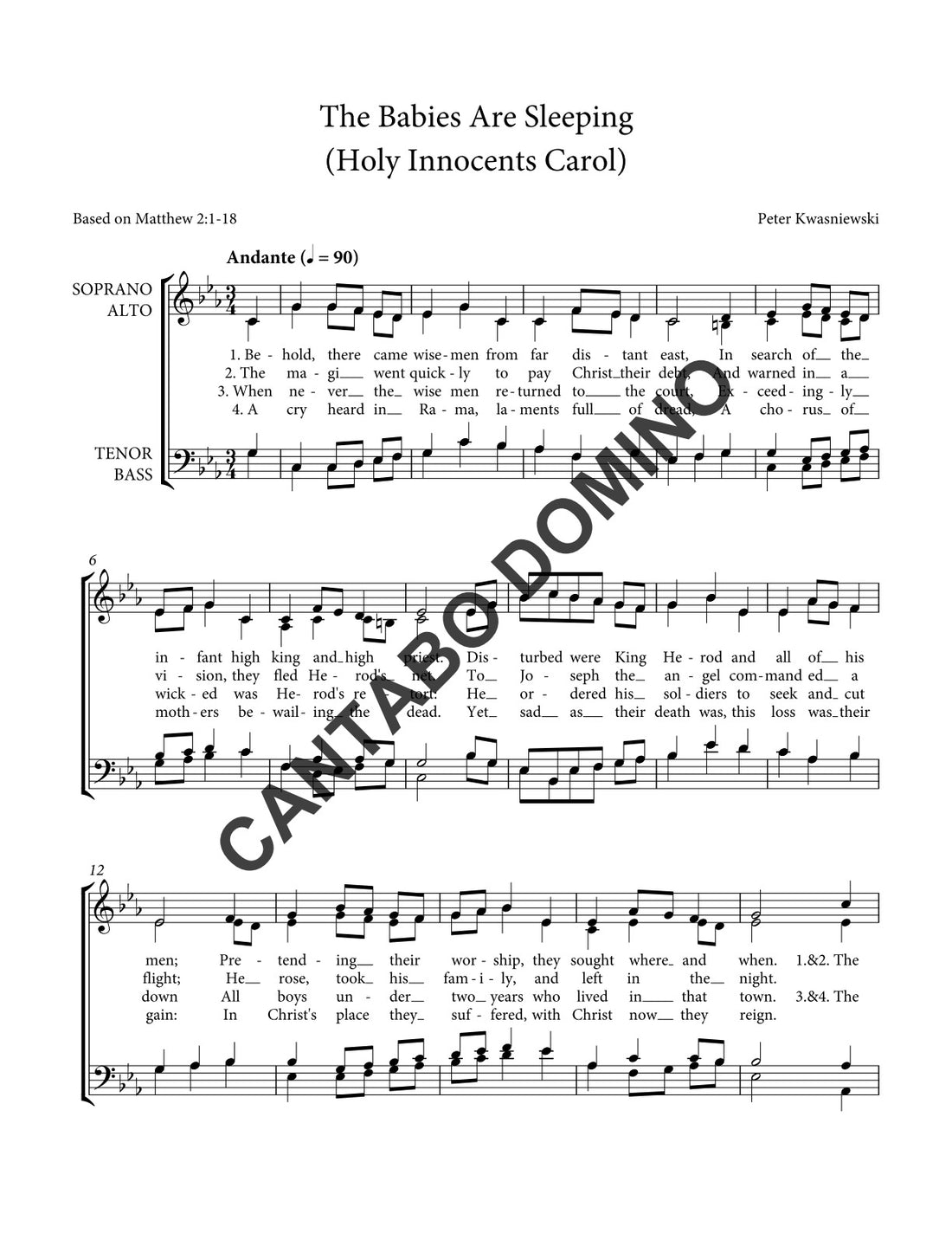 The Babies Are Sleeping (Holy Innocents Carol)
If you are purchasing for multiple performers, please enter the number of copies you will be making of this piece, as only one download will be available per item purchased.
Apart from "Coventry Carol" (my arrangement of which may also be found on this site), the Western tradition offers a surprising paucity of hymns connected with the Holy Innocents. Perhaps that reflects the difficulty of combining the theme of tragic lamentation for the slaughter of children with their heavenly victory as member of Christ, a paradox well expressed in the (pre-55) Roman rite when it celebrates Mass in violet on December 28, without a Gloria or Alleluia, but in red on the octave day, with a Gloria and an Alleluia.
Be that as it may, I wrote the following lyrics and music (for SATB chorus) based on the story narrated in Matthew 2:1-18.
1. Behold, there came wise men from far distant east,
In search of the infant high king and high priest.
Disturbed were King Herod and all of his men;
Pretending their worship, they sought where and when.
The Baby is sleeping, He brings peace to earth,
But Herod, the restless, reveres not this birth.

2. The magi went quickly to pay Christ their debt,
And warned in a vision, they fled Herod's net.
To Joseph the angel commanded a flight;
He rose, took his family, and left in the night.
The Baby is sleeping, He brings peace to earth,
But Herod, the restless, reveres not this birth.

3. When never the wise men returned to the court,
Exceedingly wicked was Herod's retort:
He ordered his soldiers to seek and cut down
All boys under two years who lived in that town.
The babies are sleeping, they do him no harm,
But Herod will slay them with merciless arm.

4. A cry heard in Rama, laments full of dread,
A chorus of mothers bewailing the dead.
Yet sad as their death was, this loss was their gain:
In Christ's place they suffered, with Christ now they reign.
The babies are sleeping, they do him no harm,
But Herod will slay them with merciless arm.

(Peter Kwasniewski)