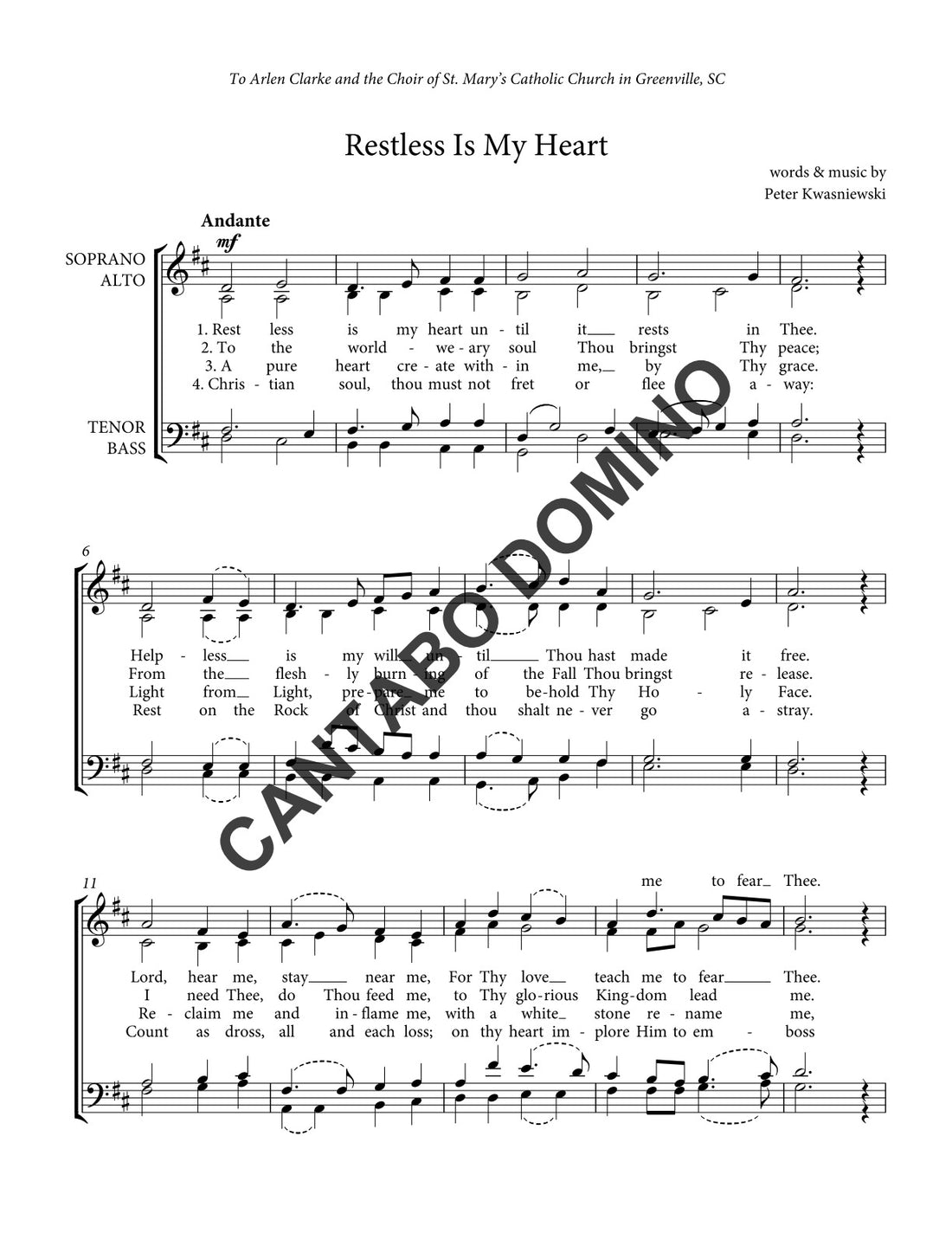 If you are purchasing for multiple performers, please enter the number of copies you will be making of this piece, as only one download will be available per item purchased.
An English SATB hymn, dedicated to Arlen Clark and the Choir of St. Mary's Catholic Church in Greenville, SC.
The verses successively address Jesus as the savior of our hearts, the source of peace, the creator of purity, the solid foundation of faith, with many other scriptural images woven in.
A descant and string parts are available upon request.
1. Restless is my heart until it rests in Thee.
Helpless is my will until Thou hast made it free.
Lord, hear me, stay near me,
For Thy love teach me to fear Thee.
Make me, though blind, see clearly!
Jesus Savior, Jesus Son of God,
Jesus Ruler, Jesus Refuge.

2. To the worldweary soul Thou bringst Thy peace;
From the fleshly burning of the Fall Thou bringst release.
I need Thee, do Thou feed me,
to Thy glorious Kingdom lead me.
From tares and thorns, weed me!
Sower, Gardner, Harvester of souls,
Bread of angels, Desert manna.

3. A pure heart create within me, by Thy grace.
Light from Light, prepare me to behold Thy Holy Face.
Reclaim me and inflame me,
With a white stone rename me,
Fit me to proclaim Thee!
Jesus Master, Jesus Lamb of God,
Jesus High Priest, Jesus Bridegroom.

4. Christian soul, thou must not fret or flee away:
Rest on the Rock of Christ and thou shalt never go astray.
Count as dross, all and each loss;
on thy heart implore Him to emboss
Indelibly His Cross!
Victim, Ransom, Sealed within the tomb,
Risen Victor, Life eternal.

(Peter Kwasniewski)