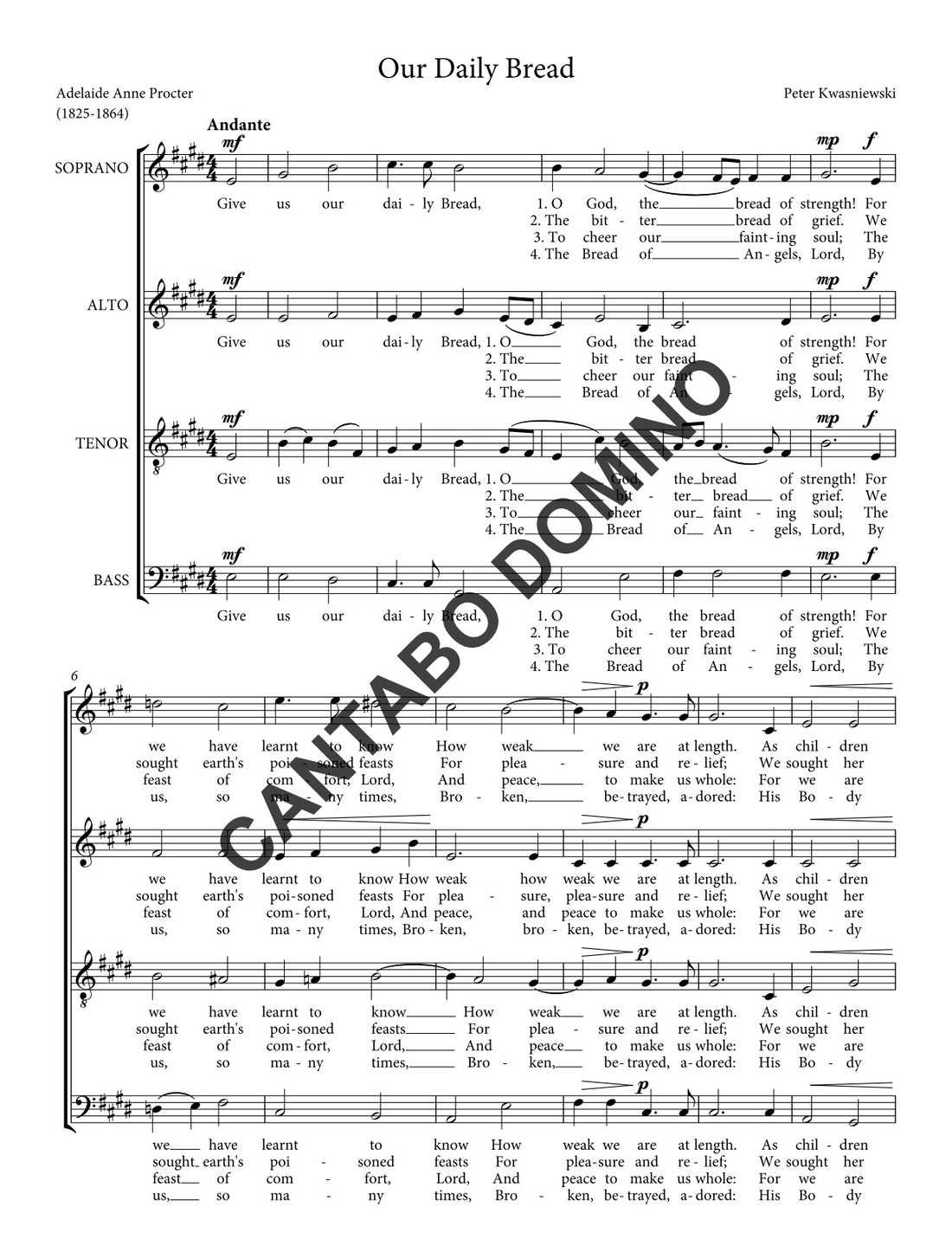 If you are purchasing for multiple performers, please enter the number of copies you will be making of this piece, as only one download will be available per item purchased.
This SATB choral work sets to music a rather intense poem by Adelaide Anne Procter (1825–1864), strikingly modern in spirit for its time of publication: apart from the poetic style, it could be something written by Dorothy Day.

Suitable as a general choir motet.

1. Give us our daily Bread,
Oh God, the bread of strength!
For we have learnt to know
How weak we are at length.
As children we are weak,
As children must be fed—
Give us Thy Grace, oh Lord,
To be our daily Bread.

2. Give us our daily Bread:—
The bitter bread of grief.
We sought earth's poisoned feasts
For pleasure and relief;
We sought her deadly fruits,
But now, oh God, instead,
We ask Thy healing grief
To be our daily Bread.

3. Give us our daily Bread
To cheer our fainting soul;
The feast of comfort, Lord,
And peace, to make us whole:
For we are sick of tears,
The useless tears we shed;—
Now give us comfort, Lord,
To be our daily Bread.

4. Give us our daily Bread,
The Bread of Angels, Lord,
By us, so many times,
Broken, betrayed, adored:
His Body and His Blood;—
The feast that Jesus spread:
Give Him—our life, our all—
To be our daily Bread!

Adelaide Anne Procter (1825–1864)