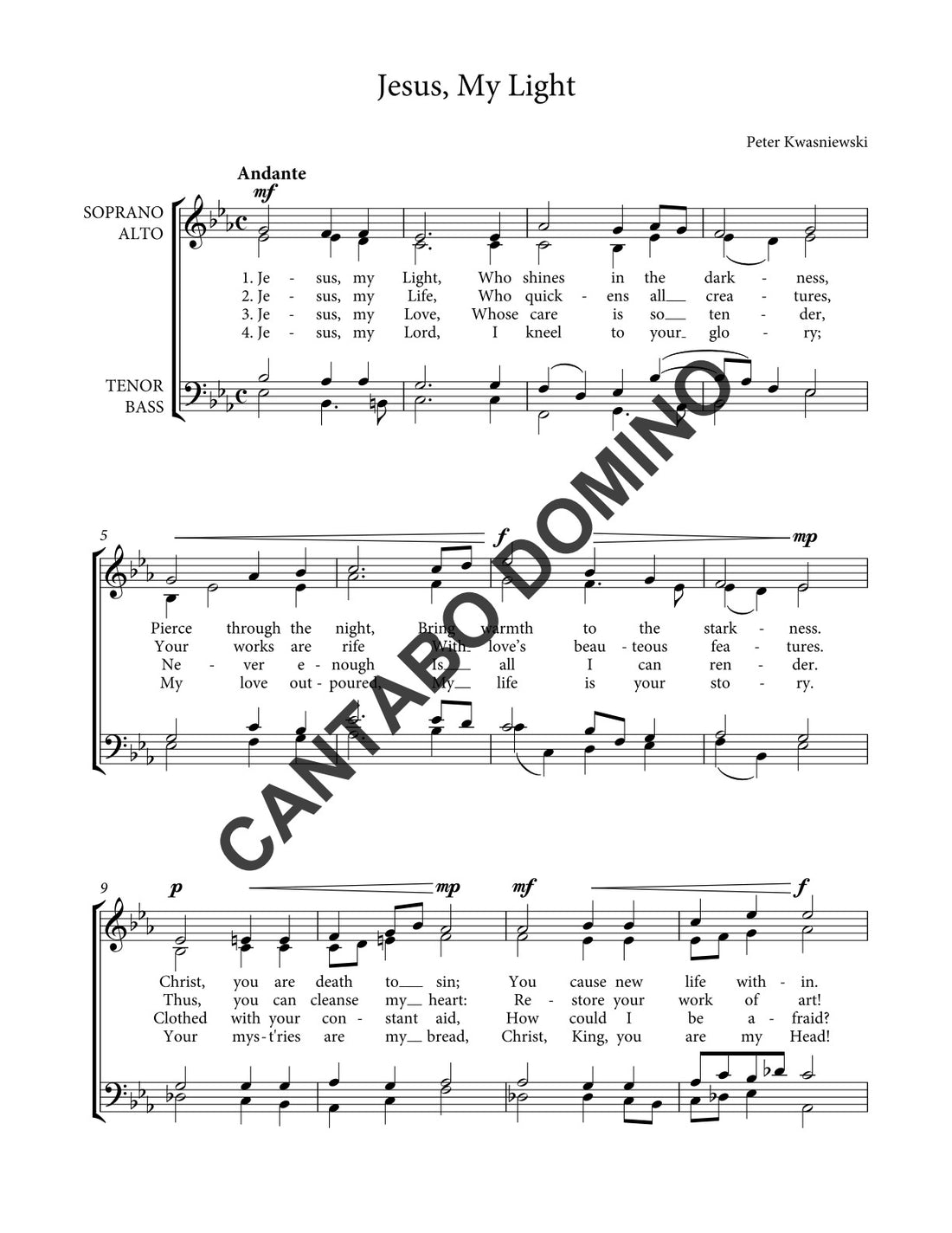 If you are purchasing for multiple performers, please enter the number of copies you will be making of this piece, as only one download will be available per item purchased.
I wrote the lyrics and music of this English SATB hymn, which addresses Jesus in successive verses as Light, Life, Love, and Lord, and develops each oneof those titles.
Arlen Clarke composed the descant for the final verse (included). String parts are available upon request.

1. Jesus, my Light,
Who shines in the darkness,
Pierce through the night,
Bring warmth to the starkness.
Christ, you are death to sin;
You cause new life within.
Give me this glorious grace:
Show me your holy face.
Banish my sadness,
Fill me with gladness.

2. Jesus, my Life,
Who quickens all creatures,
Your works are rife
With love's beauteous features.
Thus, you can cleanse my heart:
Restore your work of art!
Fashion the image new
Until it looks like you—
Word ever spoken,
Beauty unbroken.

3. Jesus, my Love,
Whose care is so tender,
Never enough
Is all I can render.
Clothed with your constant aid,
How could I be afraid?
When all creation pales,
Your friendship never fails.
Lord, come to win me,
Come, dwell within me.

4. Jesus, my Lord,
I kneel to your glory;
My love outpoured,
My life is your story.
Your mysteries are my bread;
Christ, King, you are my Head!
Draw me into your heart,
Never let me depart.
I fall before you;
Lord, I adore you.