Jesu Dulcis Memoria Setting I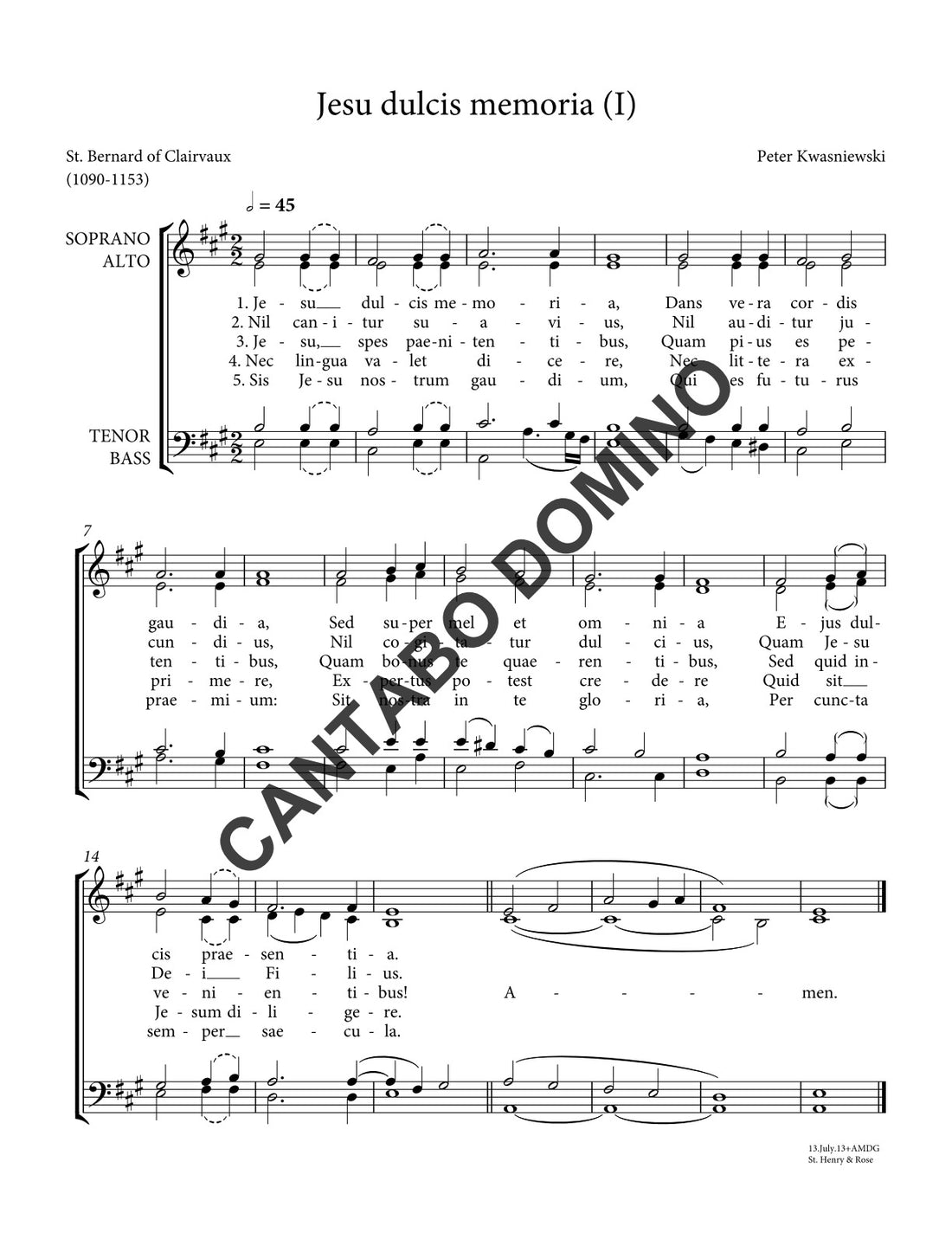 Jesu Dulcis Memoria Setting I
If you are purchasing for multiple performers, please enter the number of copies you will be making of this piece, as only one download will be available per item purchased.
This beloved medieval lyric has always been a favorite of mine. I composed two settings of it in July 2013, very similar. It may be sung straight through in SATB harmony, or alternatim with the chant melody; the two versions could even be combined by alternating the harmonizations. This offers a lot of versatility for an offertory or communion motet.
(The recording here alternates between the chant and the four-part setting.)
1. Jesu, dulcis memoria,
dans vera cordis gaudia:
sed super mel et omnia
ejus dulcis praesentia.

2. Nil canitur suavius,
nil auditur jucundius,
nil cogitatur dulcius,
quam Jesus Dei Filius.

3. Jesu, spes paenitentibus,
quam pius es petentibus!
quam bonus te quaerentibus!
sed quid invenientibus?

4. Nec lingua valet dicere,
nec littera exprimere:
expertus potest credere,
quid sit Jesum diligere.

5. Sis, Jesu, nostrum gaudium,
qui es futurum praemium:
sit nostra in te gloria,
per cuncta semper saecula.
Amen.

LITERAL TRANSLATION

1. Jesus, the sweet memory,
Giving true joy to the heart,
But more than honey and all things,
His sweet presence.

2. Nothing more delightful is sung,
Nothing more pleasing heard,
Nothing sweeter thought,
Than Jesus, the Son of God.

3. O Jesus, hope of the penitent,
How gracious you are to those who ask!
How good to those who seek you—
But what to those who find you!

4. No tongue has power to tell,
No letter to express;
He who has experience of it can believe
What it is to love Jesus.

5. O Jesus, may you be our joy,
You who are our future reward:
May our glory be in you
For all ages of ages.
Amen.