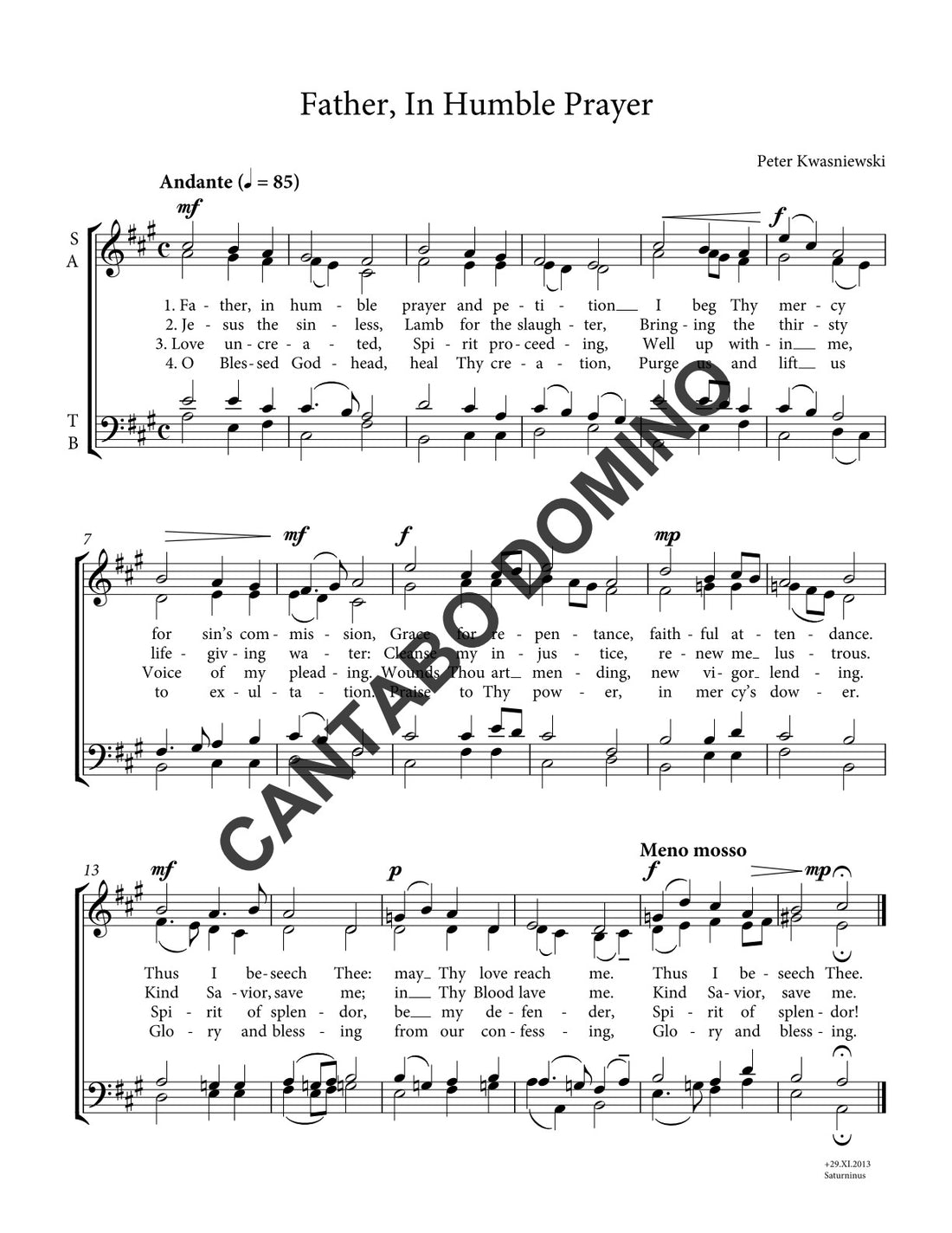 If you are purchasing for multiple performers, please enter the number of copies you will be making of this piece, as only one download will be available per item purchased.
An SATB English hymn in four verses, with a clearly Trinitarian structure. Verse 1 pleads for the Father's mercy and grace; verse 2 pleads with Jesus the Lamb of God for life-giving water and cleansing in the laver of His Blood; verse 3 turns to "Love uncreated, Spirit proceeding," and asks for His interior power; verse 4 doxologizes the One and Triune Godhead.

Ideal for Trinity Sunday; also suitable for general use.
1. Father, in humble prayer and petition
I beg Thy mercy for sin's commission—
Grace for repentance, faithful attendance.
Thus I beseech Thee: may Thy love reach me.
Thus I beseech Thee.

2. Jesus the sinless, Lamb for the slaughter,
Bringing the thirsty life-giving water:
Cleanse my injustice, renew me lustrous.
Kind Savior, save me; in Thy Blood lave me.
Kind Savior, save me.

3. Love uncreated, Spirit proceeding,
Well up within me, Voice of my pleading.
Wounds Thou art mending, new vigor lending.
Spirit of splendor, be my defender,
Spirit of splendor!

4. O Blessed Godhead, heal Thy creation,
Purge us and lift us to exultation.
Praise to Thy power in mercy's dower.
Glory and blessing from our confessing—
Glory and blessing!

(Peter Kwasniewski)