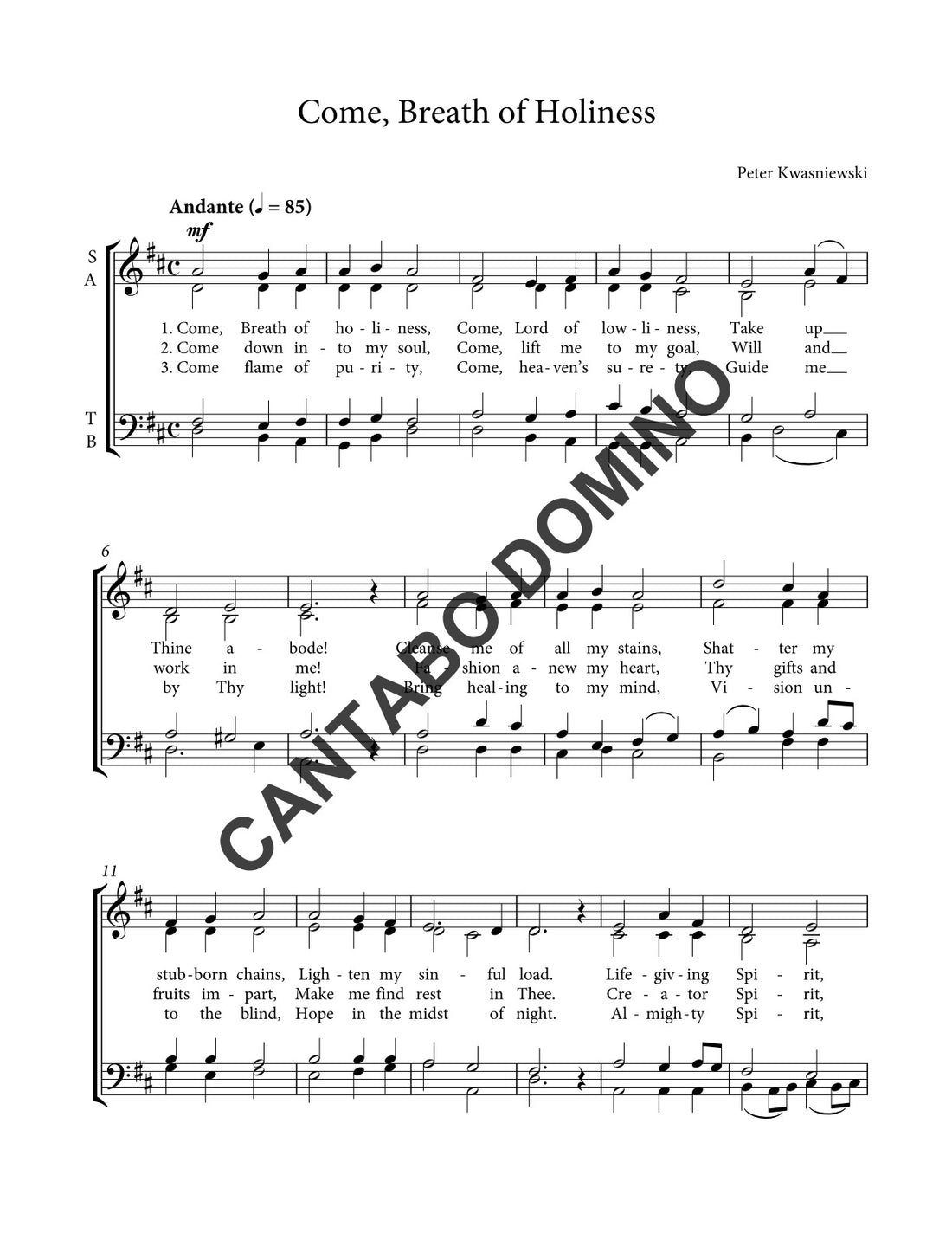 If you are purchasing for multiple performers, please enter the number of copies you will be making of this piece, as only one download will be available per item purchased.
Words and music (SATB) by Peter Kwasniewski. 
An ideal English hymn for Pentecost or other occasions dedicated to the Holy Spirit. May be used as a choir motet.
1. Come, Breath of holiness,
Come, Lord of lowliness,
Take up Thine abode!
Cleanse me of all my stains,
Shatter my stubborn chains,
Lighten my sinful load.
Life-giving Spirit, Love proceeding,
Draw me into Thy speechless pleading.
Veni, veni, Sancte Spiritus, [Come, O Holy Spirit,]
Veni Pater pauperum! [come, Father of the poor!]

2. Come down into my soul,
Come, lift me to my goal,
Will and work in me!
Fashion anew my heart,
Thy gifts and fruits impart,
Make me find rest in Thee.
Creator Spirit, re-create me,
Kindle my yearning while I await Thee:
Veni, veni, Sancte Spiritus, [Come, O Holy Spirit,]
Veni Dator munerum! [Come, Giver of gifts!]

3. Come, flame of purity,
Come, heaven's surety,
Guide me by Thy light!
Bring healing to my mind,
Vision unto the blind,
Hope in the midst of night.
Almighty Spirit, pour out Thy meekness,
That Thy strength may shine in my weakness.
Veni, veni, Sancte Spiritus, [Come, O Holy Spirit,]
Veni, Lumen cordium! [Come, Light of hearts!]

- Peter Kwasniewski